Covid: Johnson plays role of pessimist amid vaccine hope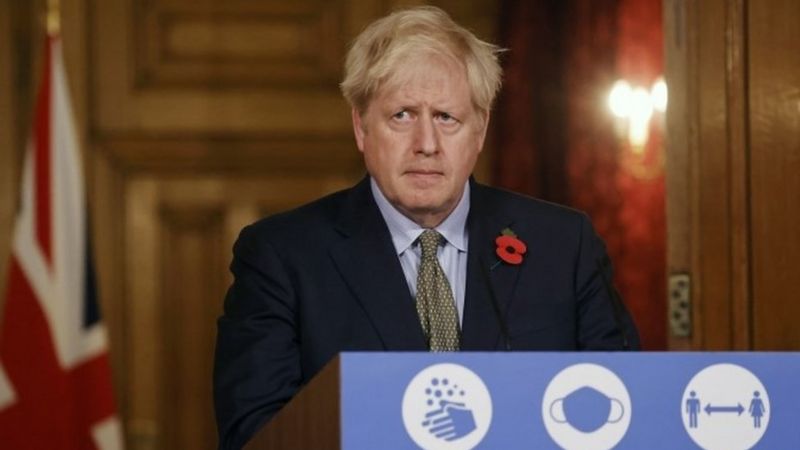 Watching the perennial political optimist play the role of pessimist today was a strange experience.
Boris Johnson is so often accused of dismissing well-founded concerns, being cavalier with others' fears, preferring to believe
it will be alright on the night rather than having the seriousness required of a prime minister, especially at a time of national
crisis.
But on Monday, not withstanding a metaphor about tooting bugles which he seemed to have smuggled in, the prime minister
heaped caveat after caveat on the news about the potential of the Pfizer vaccine.
He and the Deputy Chief Medical Officer, Jonathan Van-Tam, seemed for once to have swapped roles. The politician was
urging caution, the medic extolling the possibilities.
The explanation, of course, is that England is only one week into the second version of lockdown. The government is already
concerned about compliance, and wants therefore to give no impression to the public that with one bound, they will again
be free.
The vaccine will not be ready to make a difference to the second peak that we are living through right now.
Boris Johnson has perhaps (let's see) learnt from his earlier claims that the country would "squash the sombrero", or
"turn the tide" on its deadly foe.
Infections are high in lots of parts of the UK. Lives are at stake - right now.
Yet the advance of this potential vaccine has already changed the politics of this terrible situation. There are huge hurdles
ahead and it is right to emphasise those. But what was a possibility seems suddenly to have become real.
Eight long months since the prime minister warned of a significant outbreak in the UK, it's a profound reminder that for all
of the awful loss of life, all of the hardship that many people have experienced, the strangeness, the frustration of this Covid
universe, there will be an end.
If you don't want to miss out on this, come and follow here. :
เล่นสล็อต