Germany starts Christmas lockdown amid Covid surge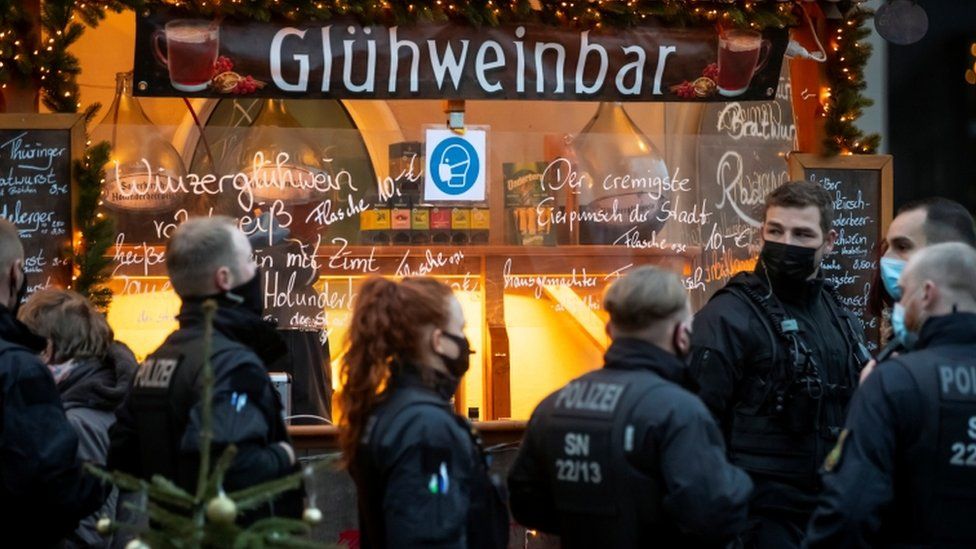 Few Germans had expected to enjoy all the trappings of a traditional Christmas this year but new countrywide restrictions, which come into force on Wednesday,
will limit festivities to the smallest of family gatherings. No carolling, no parties and even Germany's much loved glühwein stalls will close, as drinking outdoors
is banned.
Announcing the measures at the weekend, Chancellor Angela Merkel said that an existing "lockdown light", which closed bars, restaurants, arts and leisure
facilities at the beginning of November, had not done enough to tackle Germany's second wave.
The country has experienced record numbers of infections and deaths in the past fortnight and intensive care units are filling up.
What are Germany's lockdown measures?
From Wednesday, schools and non-essential shops will close
People must, where possible, work from home
Private gatherings will be limited to a maximum of five people from two households - with an additional four close family members allowed over Christmas
Some German states are going further with night-time curfews and a ban on going out for anything other than essential reasons imposed in some areas
There'll be no let up over New Year either. No gatherings on the streets will be allowed, and the sale of fireworks is prohibited - many Germans like to celebrate
Silvester, as it's called here, with a bang.
For a country that cherishes its Christmas traditions there are precious few joyful tidings.
In normal times, Dresden's old market square would be crammed with people enjoying its world-famous Christmas market. The city's Christmas lights still twinkle
but the streets are quiet and, even before shops here were ordered to close, business was hardly booming.
"It hurts," said Astrid Rademacher as she rearranged silver decorations and antique glassware in her shop. The government has promised more financial aid to
affected businesses, and has taken on new debt in order to fund rescue packages.
But asked whether her business could survive, she's unsure. "I hope, I hope. We will see. If we get some help, we will see."
Impatience for German vaccine
Inevitably, as Britain and the US start vaccination programmes using a German-developed vaccine, there is growing impatience here that Germany is still,
along with other EU countries, waiting for European regulators to approve it.
It's anticipated vaccination rollout can begin before the end of the year, with the health minister suggesting that 60% of the population could be vaccinated by
the summer.
And already, among the snow-covered forests of south-west Germany, one family firm is working around the clock.
Read the news and follow the situation here. :
slotxo