Arrowheads and human remains found in Mold restoration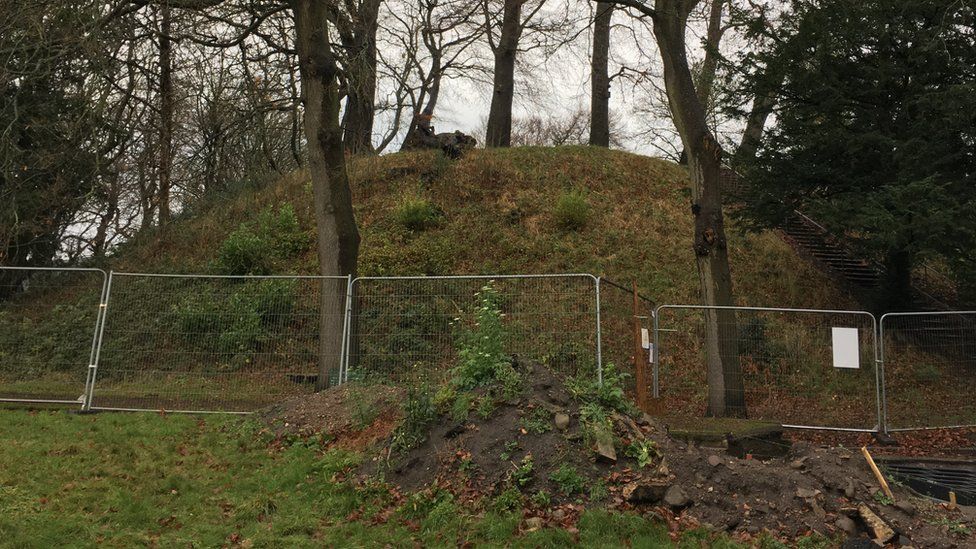 An historic site could be "elevated in importance" due to new archaeological finds, experts have said.
Bailey Hill, in Mold, Flintshire, is the site of a castle which was thought to have been built using timber in the 11th Century.
But a masonry wall has been found, along with arrowheads and human remains during redevelopment work.
A £1.8m project aims to encourage further use of the site for leisure and events.
Building work started in February and is due to be completed in January, despite delays because of the coronavirus pandemic.
Paths have been re-laid to make the area more accessible, a performance area has been installed in the inner bailey, and a cottage at the foot of the site has been
extended to showcase the site's history.
Archaeological discoveries, such as two sections of a masonry wall, may change the narrative about Bailey Hill, according to Ian Grant, senior archaeologist with
the Clwyd-Powys Archaeological Trust.
"Up until we uncovered that masonry construction, the generally perceived idea of what the castle would have looked like is that it would have been constructed
from timber, in a classic motte and bailey style," he said.
"Once you start to find masonry, you think 'hang on, this castle didn't have a short life'.
"It's grown into something, there's a lot more going on there and it becomes far more strategic.
"It starts to tell you a lot more on the money that's been invested by the crown or the Welsh princes, whoever is holding it at the time.
"It's elevated in importance considerably once you start to find masonry."
Along with arrowheads and pottery, likely from the 12th or 13th Century, Ian's team discovered evidence of burnt floors which may be "little snapshots of
a catastrophic event" such as a battle or siege.
They also found seven bodies - six intact - which had been buried "with respect" on the site.
Samples have been sent to Durham University for further analysis.
Read the news aloud here. :
SLOT